World Accreditation Day Webinar Video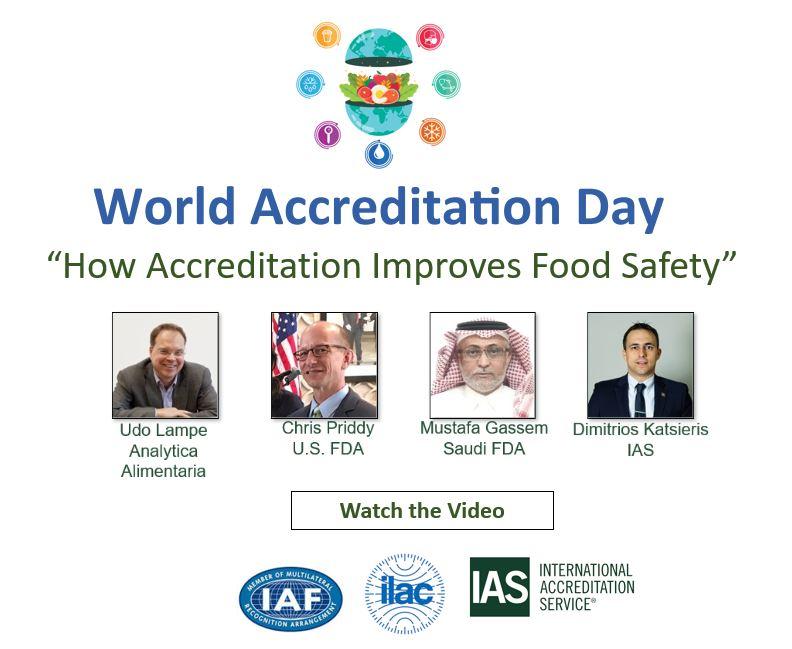 IAS' World Accreditation Day Webinar is now available to watch for free at this link.
This Webinar features 4 presentations from leading experts from the food safety industry.
Udo Lampe, Founder and Managing Director of Analytica Alimentaria GmbH presentation is on "Accreditation and Food Safety: A World of Opportunities and Challenges".
Christopher Priddy, JD, International Relations Specialist, U.S. Embassy New Delhi Food & Drug Administration, presentation topic is "U.S. Food & Drug Administration Office of Global Policy and Strategy" which is an overview of the India Office Food Safety Efforts.
Dr. Mustafa Gassem, Executive Director, Integrated Modern Scientific Supplies (IMSS), delivers a presentation on "Food Safety and Accreditation" which discusses the benefits of food safety certification and accreditation.
Dimitrios Katsieris, International Manager, IAS, presents on "Why Accreditation is important for food safety" which highlights the various accreditation food safety programs from IAS.